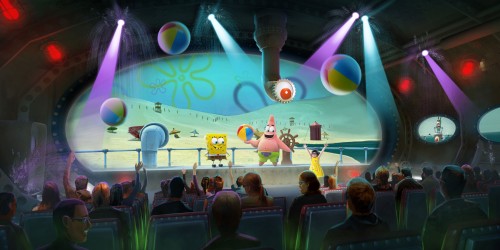 Moody Gardens continues to evolve through the years by offering new and innovative attractions for the public to enjoy. The newest interactive experience being introduced to the Discovery Pyramid is no exception to that. Guests will dive into an undersea voyage with the debut of the SpongeBob SubPants Adventure, this Memorial Day weekend, May 23-25.
This first-of-its-kind, choose-your-own-path, immersive experience lets visitors join their favorite underwater friends from Nickelodeon's SpongeBob SquarePants for a submarine adventure to Bikini Bottom through a 3D digital show that features live narration; a unique interactive option that allows guests to choose which locations to visit on their underwater journey; and exciting 4D sensory elements, such as wind, seat sensors, bubbles, leg ticklers and scents that make the aquatic town come to life.
Before guests descend into the deep sea on the SpongeBob SubPants Adventure "Le Plunger" submarine, the audience will encounter real sea stars, squids and sponges as they learn about ocean and sea-life conservation. They will then dive towards Bikini Bottom for a unique, multi-sensory experience, having real-time conversations with their tour guide, Patrick Star; traveling to destinations, like Jellyfish Fields, Rock Bottom, Sandy's Treedome and Goo Lagoon; and encountering other surprises from SpongeBob SquarePants, Sandy and Plankton.
"Our objective is always to provide that fun, educational experience that is so important to parents and kids, and the SpongeBob SubPants Adventure attraction will achieve this in a new and exciting way," said Moody Gardens President and CEO John Zendt, who added that Nickelodeon serves as the ideal partner in creating memorable family experiences. "This is real engagement. Visitors will be able to interact with the Nickelodeon characters on a digital stage as they have never been able to do before."
Moody Gardens® is a public, non-profit educational destination utilizing nature in the advancement of rehabilitation, conservation, recreation and research. For updates, hours and to buy tickets, visit moodygardens.org.