Moody Gardens is counting its blessings – two by two – this holiday season as the Rainforest Pyramid staff welcomed Pygmy Slow Loris twins in the Nocturnal Exhibit.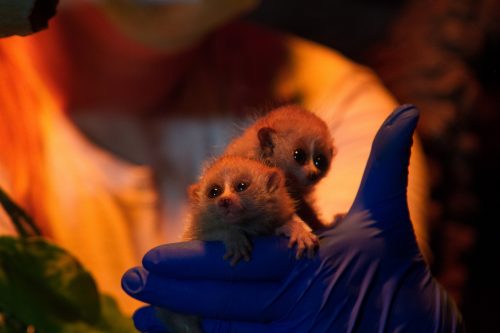 The twins made their debut just before Christmas as excitement mounted amongst staff. This is the first Pygmy Slow Loris birth at Moody Gardens since 2011.
The birth was even more special as Cai, the mother of the twins, is a Moody Gardens twin herself. She is one of the first pair of Pygmy Slow Loris babies born at Moody Gardens in 2011. The father of the twins joined the Moody Gardens' family in September 2015 as per a Species Survival Plan (SSP) recommendation from the Duke Primate Center in North Carolina as a mate for both Cai and another female named Blackwell.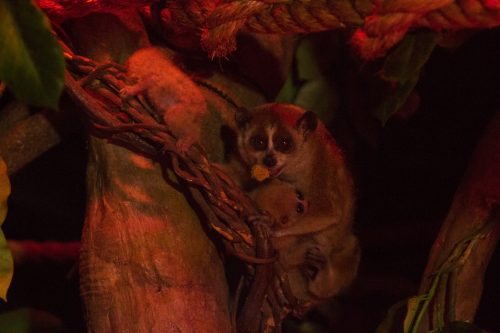 As an Association of Zoos and Aquariums' accredited institution, Moody Gardens is a part of the SSP  breeding recommendation program. Through this program staff assists animals that are endangered or threatened in the wild by breeding them in captivity.
Pygmy Slow Lorises are small, nocturnal prosimians native to Southeast Asia, more specifically Vietnam, Cambodia and Laos. They have a vice-like grip, move slowly, and have a venomous bite which is unique for a mammal.
In addition to habitat loss, their main threats are traditional medicine and the illegal wildlife trade. They are captured and their various body parts are used in different traditional medicine or practices because some cultures believe the animal can be used for healing. This, combined with the issue that they are perceived to make good pets, has led to the capture of many lorises and their numbers in the wild are dwindling.
There are only about 50 Pygmy Slow Lorises in captivity in North America.
Guests can do their part to protest lorises. Moody Gardens has partnered with the "Little Fireface Project", the world's longest running project that aims to protect lorises from extinction through research, education and conservation. Through Jan. 8, visitors can purchase a Pumpkin Spice Latte from Moody Brews at the Moody Gardens Hotel. A portion of the "PSLs for PSLs" proceeds will be donated to help protect the Pygmy Slow Loris in the wild.
The twins will join the other Pygmy Slow Lorises on exhibit in the Moody Gardens Rainforest Pyramid in the New Year. The Rainforest Pyramid showcases the various rainforest habitats from around the world. The Nocturnal Exhibit houses Geckos, Prehensile-Tailed Porcupines and Madagascar Jumping Rats. The immersive tropical environment is home to free roaming monkeys and birds, as well as fish, Komodo Dragons and more!