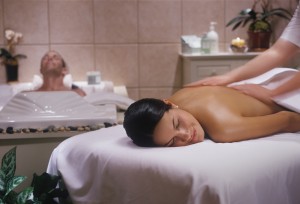 Life can be a little hectic, even when you're on vacation. Treat yourself with a visit to the Spa at Moody Gardens! Our professional and caring staff can liven your senses, restore your body, and ease your mind with tropical fragrances and ocean elixirs. You can't help but feel relaxed among the enchanting pyramids and botanical beauty.
The Spa at Moody Gardens offers a wide variety of ways to pamper yourself, from couple's massages to skin care and hair services. Choose from:
Packages
Bridal Packages
Massage Therapy
Skin Care
Hydrotherapy
Body Exfoliation
Body Wraps
Waxing Services
Nail Care
Hair Services
Makeup
Whether you are choosing a gift for a friend or taking a little time for yourself, we have something for everyone! We suggest you try our hydrotherapy! The belvedere hydrotherapy tub has 147 jets that are designated to systematically detoxify and massage your body. You can choose from four different exciting hydrotherapy options.
Coconut Milk Bath Soak: A calming milk bath that both hydrates your skin and calms your mind.
Pure Passionflower Bubble Bath: Immerse yourself in the pure scent of passionflowers.
Seaweed Splash: This special bath is infused with three types of seaweed to detoxify, re-mineralize, and soothe your skin.
Couples Hydrotherapy Bath: Enjoy a romantic spa treatment in our private couple's suite hydrotherapy tub.
One of our most popular spa services is massage therapy. For a limited time, when you buy one Swedish massage, you'll get a second one free! Enjoy two fifty-minute sessions of the relaxing full-body massage for the price of one! You can also choose from three of our massage therapy upgrades:
Aromatherapy: An aroma of your choice is mixed into the massage cream for a relaxing scent experience.
Warmed Tropical Oil Scalp Massage: A wonderful addition to any massage.
Aromatherapy Paraffin Dip: Leaves your hands and feet feeling extra smooth.
To learn more about the Spa At Moody Gardens, visit the Moody Gardens Hotel online at www.moodygardenshotel.com. And don't miss out on our limited time spa offer!