White sand in Galveston? That's right, Palm Beach. Galveston's favorite white sand beach will be opening to the public on May 21st! Relax under lush palm trees or take a dip in the cool waters of the popular lazy river or wave pool. With something for everyone, this summer will be loaded with fun and unforgettable memories!
Come and enjoy the interactive 650-foot lazy river, wave pool and two 18-foot tower slides. Other attractions include beach volleyball on regulation courts and the Aquarium Adventure play area. The Splashpad automated aquatic water feature offers interactive dump buckets, spray arches and fountains for a day of fun at the beach. Palm Beach admission is $23.95 for adults, $17.95 for children and seniors, or $55 for a season pass. Children ages three and under are free.
As if this isn't enough fun, we have exactly what you need for a weekend of island fun with the Bands on the Sand summer concert series. Beginning June 4, this live music series runs throughout the summer following each show with fireworks over the Moody Gardens pyramids and Offatts Bayou. Admission to each concert is $15 and free for kids three and under. Bands on the Sand will be held from 6 p.m. until 10 p.m. every Friday and Saturday through August 13.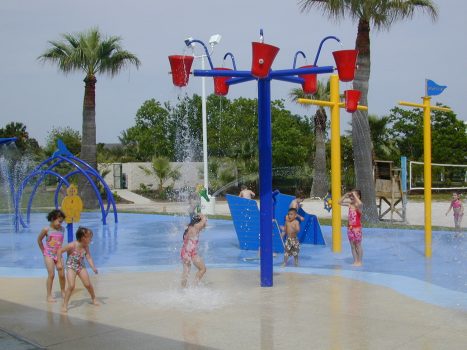 Below is the Bands on the Sand line-up:
June 4:                 Gary Michael Dahl (Variety/R&B)
June 10:               The Mockingbirds(Variety)
June 11:               Breakfast at Tiffany's (Variety)
June 17:               Yelba (Variety/Latin)
June 18:               Mid Life Crisis (Variety)
June 24:               A Sure Thing (Rock)
June 25:               Line Up (Variety)
July 1:                   Intercoastal Pirates (Variety)
July 2:                   Space Monkeys (Variety)
July 8:                   Kaos (Variety/Rock)
July 9:                   Cody Hodges (Country)
July 15:                 Velvet Punch (Rock)
July 16:                The Relics (Rock)
July 22:                 The Slags (Variety/Rock)
July 23:                 Intercoastal Pirates (Variety)
July 29:                 Leannasaurus Rex (Variety)
July 30:                 Vertigo (Rock)
August 5:             Line Up (Variety)
August 6:             Rat Ranch (Rock)
August 12:           DJ Dio (Variety)
August 13:           The Relics (Rock)