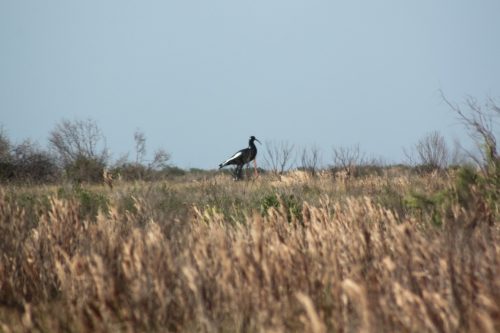 By: Animal Husbandry Manager Greg Whittaker
5 years after I sent an April fool's email to several of my local birding colleagues, I can dust off the prank and repurpose it with a more tangible meaning. The World's a strange place right now and we're all searching for those anchors of "normal" to help us make sense of things. Perhaps our Lost Bird Project Eskimo Curlew sculpture can be a reminder to us all that what once was, may not be, and what is, may disappear.
Insert joke about finding irony in a metal sculpture. It may be fittingly ironic that a half century after the last of its living namesakes disappeared quietly and unnoticed from this Island, and Earth, we have its memorial reappear with a similarly eerie lack of attention and fanfare.
This is not by design. The community support around this momentous event warranted a party, a celebration, wide ranging acclaim for the installation of this 7' bronze beauty. This was our chance to showcase our chapter in the nation-wide project designed to focus attention on how Humans can have profoundly bad effects on the natural world when we don't cherish things around us.
Todd McGrain's vision to create stoic reminders of our fellow American's past bad choices and nudge us just a little bit towards caring for what we see in our back yards is now part of our own Island's heritage. The first 5 chapters of the Lost Bird Project are also here in Galveston, but again the planned spotlights and fireworks around this really cool opportunity were snuffed out by a miniscule marauder reminding us all of our fragile existence and mortality. Nature doesn't value species, races, clans or individuals as any more or less important, but simply and methodically moves forward with all the beautiful chaos and dynamic change that has always been in play.
Within the guidelines of social distancing, please go outside, breathe the spring air, soak in the sun, and listen to the chorus of migrating birds on their annual April visit. If you get the chance to go to the Galveston Island State Park to see our new nature tourism treasure, spend the time to feel the spiritual connection to the natural space. Be safe.
Greg Whittaker is Moody Gardens animal husbandry manager and, as a birding enthusiast, frequently leads free Birding 101 and Birding 201 tours around the island.